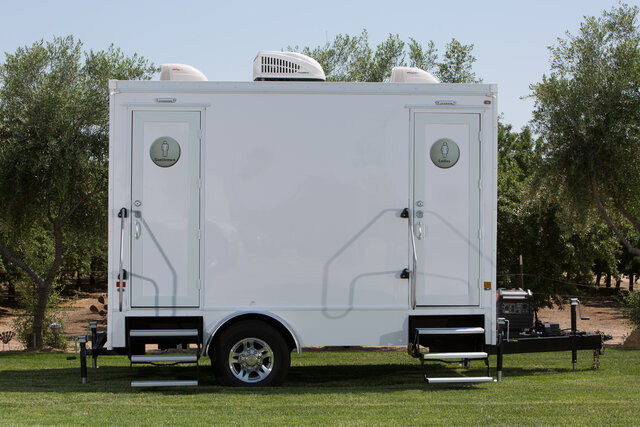 Modern 4 Stalls
Maximum capacity for this unit is 300 guests. Restroom pricing includes delivery, setup, pickup, standard cleaning, and generator with extra fuel. Trailers have Air Conditioning, Heating, CD Player / Radio. For under 100 guests trailer can come with fresh water, otherwise a water spigot within 50' is required and we'll provide the garden hose. If water is further then 50' then please have a garden hose available. Space: This restroom with the steps and handrails out takes up 20' in Length, 10' Width and 12' Height. Please have enough buffer space around the trailer and a clear entry to the parking spot so we don't scratch the trailer with any tree branches etc.. Also keep in mind the truck delivering the trailer needs space to maneuver.
Women's Restroom has 2 Stalls with 1 Sink.
Men's Restroom has 1 Stall and 1 Urinal.
-01